KAWE NEWS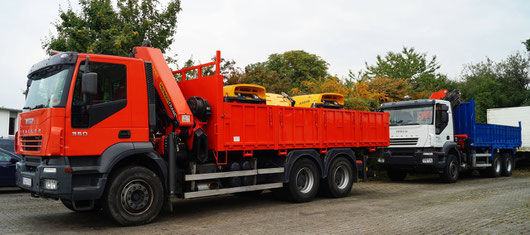 ..next package of trucks with loaded compressors went to our friends in Sudan.
7 new Atlas Copco XAS87 and XAHS 107, BBD 15ET and TEX 230 were also supplied.
---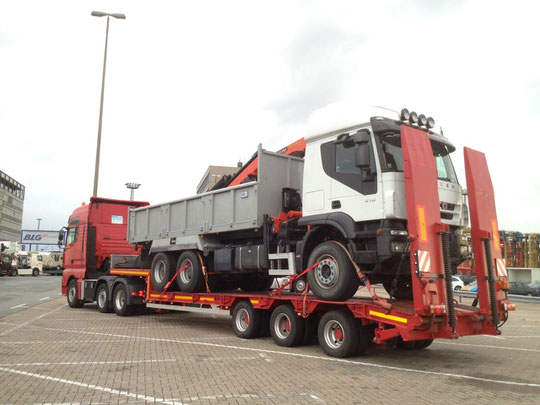 ..Next step for the construction of the water plant in Sudan was done. 7 needed tippers with crane plus truck mixers and low bed trailer were shipped to port Sudan.
---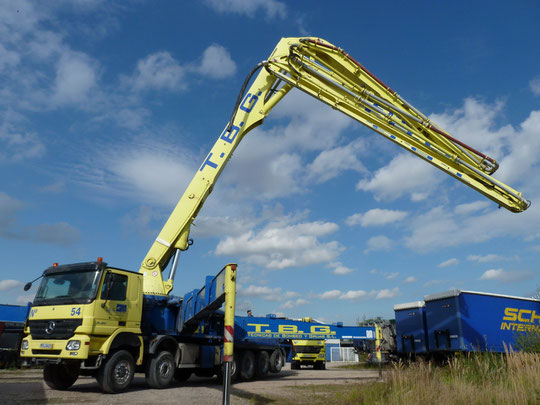 KAWE Technologie GmbH sold next big pump Putzmeister M58.
This excellent concrete pump BSF 58.16 HLS on Mercedes Benz 6560
year 2008 went to Denmark
---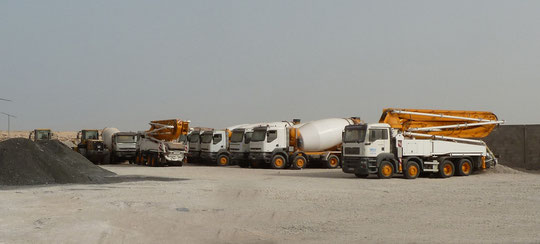 5 Concrete pumps 40-42 meter, 8 truck mixers 10m³ and loaders
were provided from KAWE to Mauritania.
For the big gold mining project, KAWE visted Nouadhibou and Nouakchott
to support his customers with technical and operating instructions for the operators.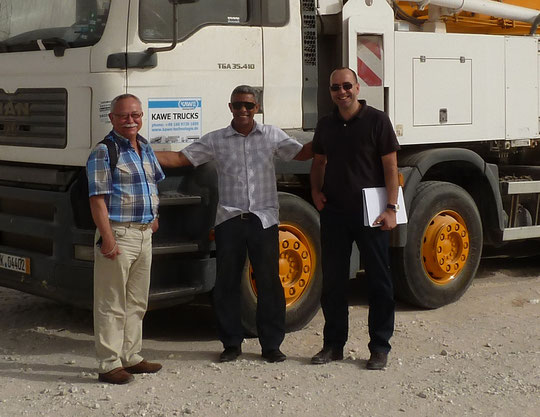 ---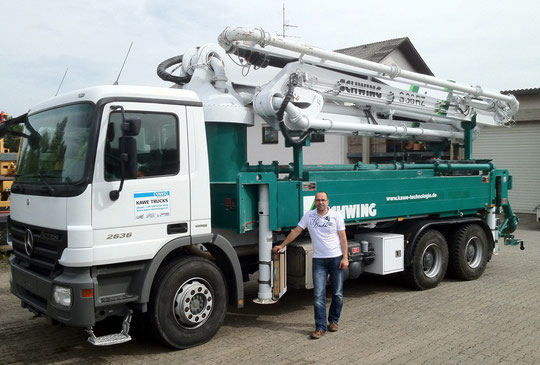 27.06.2012
One Schwing concrete pump M36 on Mercedes 2636 year 2008
went to a good friend to Jeddah, Kingdom of Saudi Arabia.
All machines sold by KAWE were full checked by Schwing or Putzmeister technicans,
new oil, filters and tires in good condition are important points for KAWE -
before shipment.
---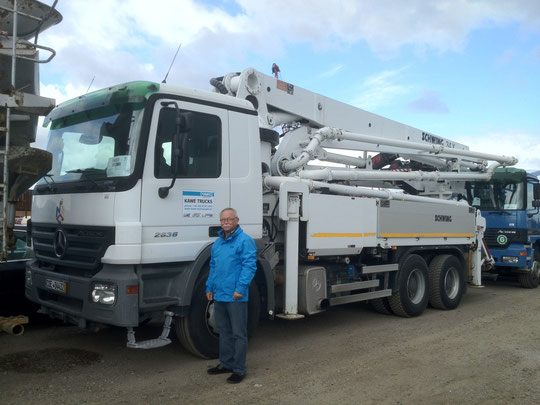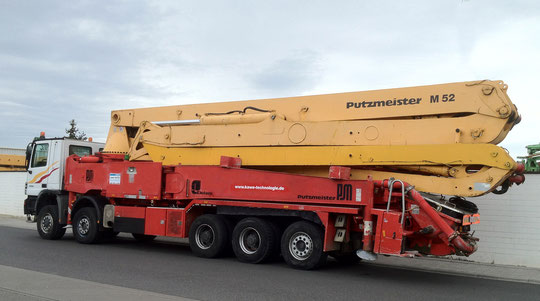 One Putzmeister BSF 52.16H on Mercedes Benz 4150, year 2004
went to Vientianne Laos. This will be the first 52 meter pump which
will be in use in Laos.
---
 Concrete pump Putzmeister BSF 28.11H year 2006 were sold to a
good partner on the african continent, to Senegal.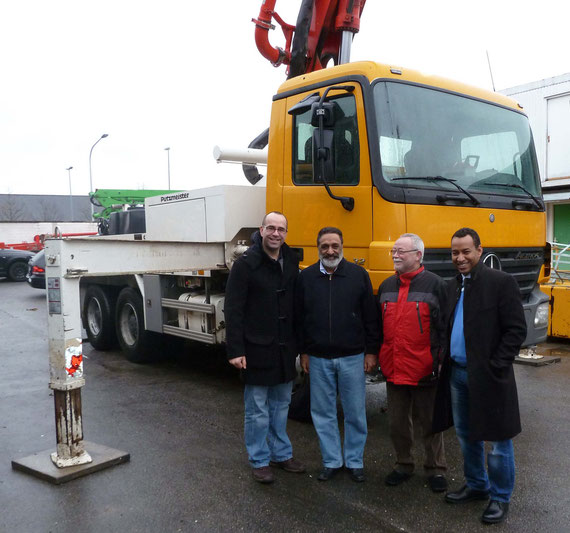 ---
KAWE
established itself
on the African
continent
6 Concrete truck mixer on Mercedes Benz 3236 year 2006 and 5 tippers on MAN 35.430 year 2006, in very good condition went to african continent.
---
KAWE Technologie Gmbh sold second big pump Putzmeister M58 year 2007.
The german machine in excellent condition went to our customer from Singapore.
Die KAWE Technologie GmbH verkauft nun schon die zweite Großmastpumpe M58 Baujahr 2007. Die Betonpumpe aus Deutschland die sich in einem hervorragendem Zustand befindet, wechselt den Besitzer nach Singapur.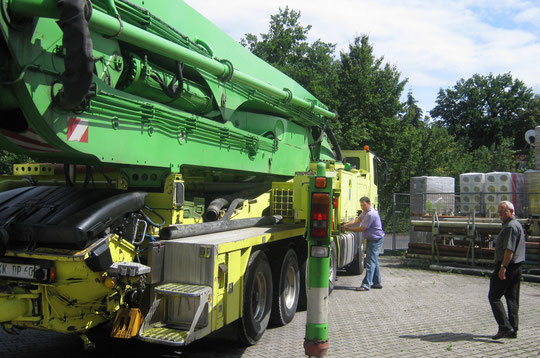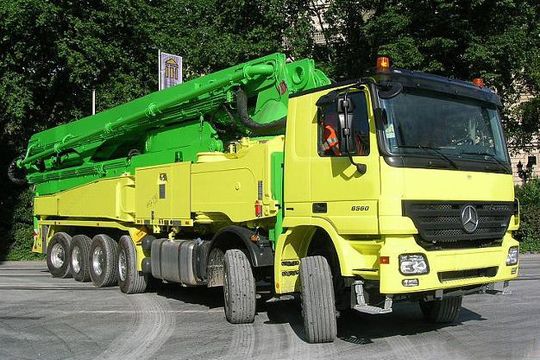 ---
KAWE Technologie sold 2 Concrete pumps Schwing S42 SX to Manama,
Kingdom of Bahrain. All technical reports from Schwing, Mercedes and MAN,
also TÜV Certificate were done brand new.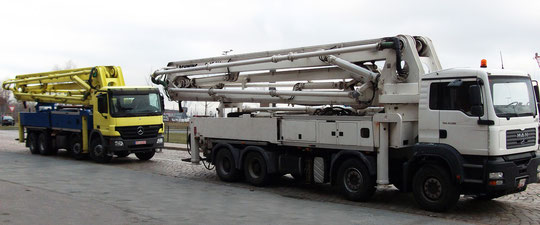 ---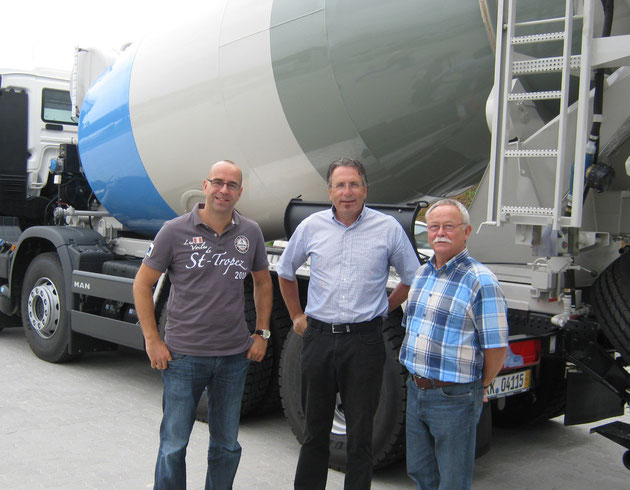 Die KAWE Technologie GmbH liefert den 1. Fahrbetonmischer 10m³ auf
MAN 35.440 8x4 Euro 5 in die Schweiz aus.
Der Geschäftsführer der Beton AG Basel Herr Hossmann konnte diesen in firmeneigenen Farben sowie einigen Sonderumbauten am 09. August in Empfang nehmen. Ein zweiter Fahrbetonmischer folgte im September 2010.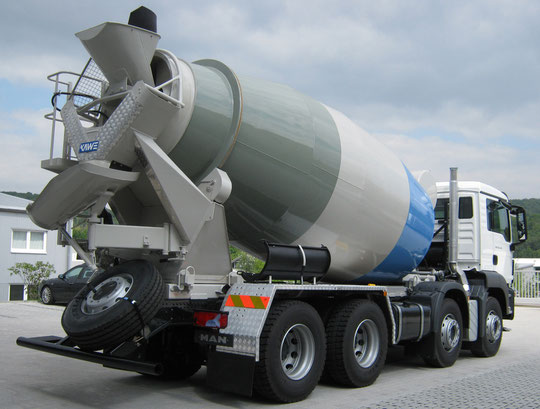 ---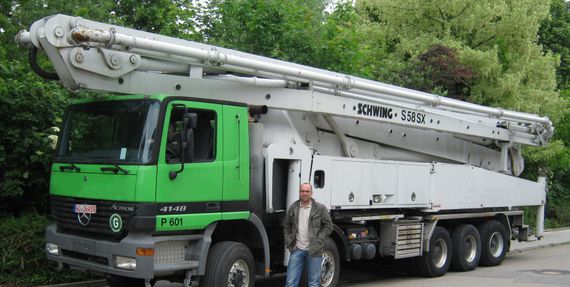 Die KAWE Technologie GmbH verkauft Ihre erste Großmastpumpe Schwing mit einer Reichhöhe von 58 meter in das Emirat Qatar.
Jörg Drescher besichtigte mit dem Geschäftsführer der Firma Aamal Readymix Doha, Parveez Aslam im April die Maschine, wodurch sich Herr Aslam selbst ein Bild von der sich in einem sehr guten Zustand befindlichen Autobetonpumpe machen konnte.
"Unsere Kunden können sich darauf verlassen, eine zuverlässige Maschine zu erhalten" so Dieter Kalinowski, Geschäftsführer der KAWE Technologie GmbH.
KAWE Technologie GmbH sold the first "big pump" Schwing 58 meter to Doha/Qatar. Jörg Drescher inspected the pump with Mr. Parveez Aslam, general manger Aamal readymix Doha. He saw one pump in excellent condition.
"Our customers can count to receive a reliable machine", according to Dieter Kalinowski, manager of the KAWE Technologie GmbH